Commissioner Bettman Says Debate Over Fights In NHL "Overblown"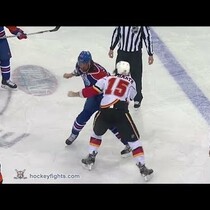 Posted March 2nd, 2014 @ 11:12pm
BY: John Mamola
@RockMamola

Leave it to NHL Commissioner Gary Bettman to make a statement that a lot of those who want fighting out of hockey don't want to hear. Commissioner Bettman wants fans to know that fighting isn't going away any time soon.
Rob Rossi of the Pittsburgh Tribune-Review spoke with Bettman at the NHL Stadium Series game in Chicago on Saturday and asked for his take on fighting in the league. Bettman stood up for fighting and said it's not a major part of the game.
"It's an overblown issue because it's a small part of the game, and to the extent there are concussions it's a small part of that," Bettman said. "Fighting is something we'll continue to focus on, but there hasn't been a consensus from the hockey people — on the side of management — or the players to make a change. I've been told if the NHLPA did a poll that 98 percent of the players would say don't change the rule."
So fighting looks like it's here to stay…..for now.