NBA Players Critical Of NBA T-Shirt Jerseys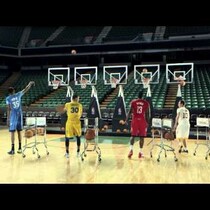 Posted December 27th, 2013 @ 6:20am
BY: John Mamola / 620wdae.com
@RockMamola
The Christmas holiday has come and gone with the NBA ruling the day with no NFL, MLB or NHL action. You know even when college football takes the day off for "The Association", the focus becomes brighter on the new look of the NBA and their t-shirt jerseys.
Didn't see them? Here's the commercial for them so you could purchase them.
Well....needless to say the reviews were not good on the new look NBA, even from the players themselves.
Call me old school but these jerseys with sleeves are awful.....

— Dirk Nowitzki (@swish41) December 25, 2013
Needs to be a mass burning of these sleeved nba jerseys. Also, no to the grey lakers logo. Looks like the real jerseys are in the wash...

— Robin Lopez (@eegabeeva88) December 26, 2013
Eh, I could take or leave them. Makes me look scrawny a bit. RT @yhaji30: @ShaneBattier How did you like the Sleeved Uniforms?

— Shane Battier (@ShaneBattier) December 26, 2013
LeBron seriously complaining about sleeved jerseys walking to locker room: "I can't shoot with these!"

— Brett Pollakoff (@BrettEP) December 26, 2013