VIDEO: Antonio Cromartie Says NFL Needs To Make Weed Legal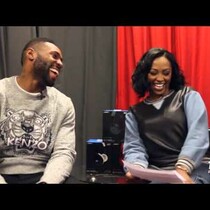 Posted February 5th, 2014 @ 11:33pm
BY: John Mamola
@RockMamola
New York Jets CB Antonio Cromartie spent a couple of minutes with the website ThisIs50.com during the weeks before Super Bowl XLVIII in New Jersey and was asked about the NFL's stance on marijuana usage in the league. Cromartie says he believes the NFL should allow the usage of marijuana because so many players use the drug anyway.
"They need to just let it go," Cromartie said while laughing. "They're just going to do it anyway. They just need to let it go. They need to go ahead and say, 'Y'all go ahead, smoke it, do what you need to do."
Although Cromartie did state the he believes that players use the drug anyway, that of course doesn't mean that he uses the drug. Cromartie took to Twitter to clarify his comments.
The interview that I did on the weed policy, I never said We're I said tht Players will smoke anyway. I don't smoke so I don't care about it

— ANTONIO CROMARTIE (@CRO31) February 5, 2014
I guess when there's nothing to talk in the football world this is what happens.

— ANTONIO CROMARTIE (@CRO31) February 5, 2014
NFL Commissioner Roger Goodell stated the week prior to the Super Bowl that the league has no immediate plans to change it's stance on the usage of marijuana.