VIDEO: Beam Falls As Assembly Hall Cancelling Game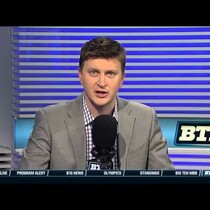 Posted February 18th, 2014 @ 10:31pm
BY: John Mamola
@RockMamola
IndianaUniversity postponed Tuesday night's basketball game against IowaUniversity after piece of metal fell into the seats at Assembly Hall just hours before tipoff.
Indiana Athletic Director Fred Glass said the school made the decision after the metal piece, which measured roughly 8 feet long and 14 inches wide, fell into the lower bowl of the arena and damaged seats. Glass said the school made the decision for the safety of fans and that
There has been no decision about whether to play Wednesday night's women's game against Michigan at Assembly Hall. The game was scheduled for 9 p.m. and a makeup date was not announced. Assembly Hall is currently in the midst of planning a multimillion-dollar renovation plan.
PHOTO: A view of the damaged seats at Assembly Hall. Can confirm game is postponed. #iubb pic.twitter.com/HgajY8Bhac

— Jordan Littman (@JordanLittman) February 18, 2014