VIDEO: Lebron James Puts On Slam Dunk Show In Practice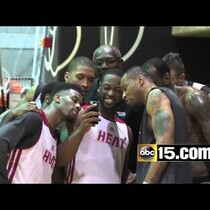 Posted February 10th, 2014 @ 11:26pm
BY: John Mamola
@RockMamola
Why is Lebron James not in the NBA slam dunk competition? Why?
For nearly a decade now, King James has been saying nope to participating in the event on All-Star Saturday. The NBA and sponsors have asked, begged and pleaded their case for his participation but every year get truned down.
Although the invitation is always open it seems for Lebron, no one even asks anymore if he'll participate. However LeBron gave everyone a "what could have been" look at his dunking skills after a practice in Phoenix, AZ.
Here's another angle courtesy of Dwayne Wade's Instagram Account.