VIDEO: Mizzou Students Block Protest Of Michael Sam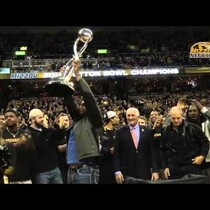 Posted February 16th, 2014 @ 10:32pm
BY: John Mamola
@RockMamola
Former Missouri football player Michael Sam returned to campus on Saturday before the Tigers game against Tennessee as he and his teammates accepted the 2014 Cotton Bowl Championship Trophy. Sam and his teammates received a standing ovation from the sellout crowd, despite the actions of the Westboro Baptist Church protesting Sam outside the venue.
Of course Sam made worldwide headlines a week ago revealing his is gay months before the NFL draft in which he is expected to be a mid round selection.
According to a press release by Westboro Baptist Church (WARNING: COULD BE NSFW):
"It happens this bit of rebellious drama is playing out down the road from WBC, in Missouri, where they are famous for two things, to wit, bestiality, & persecuting the saints of the Most High God. So we'll graciously respond to the engraved invitation; bring some snappy new picket signs to the campus of the University of Missouri; & introduce the student body to a bit of sanity & truth. #StandWithSam & #EndInHell. For sure that will leave each of those young rebels, & all the adults who satellite around them (including the entire sports media industry), without excuse. Perchance there will be one soul in the mob that fears God, who will come forth & obey. #SamStandsAgainstGod"
Needless to say, the students of Missouri stood by their classmate blocking the protest from being viewed on campus forming a wall around the campus where the protest took place across the street.
Mizzou students formed a #StandWithSam wall to keep a protest off campus http://t.co/IaqPeDx6OZ via @notfromkansas pic.twitter.com/K5EicNrPIe

— SB Nation (@sbnation) February 15, 2014
#StandWithSam supporters sang the alma mater with their backs to the WBC. @CoMissourian pic.twitter.com/zQh7mXKXtH

— Brandon Foster (@BFoster91) February 15, 2014