VIDEO: NYFD vs NYPD Participate In Charity Hockey Game BRAWL!!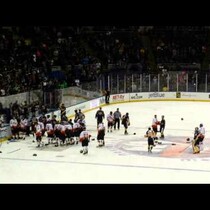 Posted April 6th, 2014 @ 11:15pm
BY: John Mamola
@RockMamola

It was time for the annual New York Police Department and Fire Department of New York charity hockey game on Sunday at the Nassau Coliseum. Even though the game is all for charity, there's definitely some notions of a rivalry to it as well, a little city-wide bragging rights among the city's finest department.
These men who keep the streets of New York safe and secure took it a little too far as a full-on brawl broke out at Nassau Coliseum on Sunday.
In the end it was the NYPD getting the win in the game, 8-5.